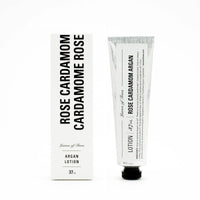 Rose Cardamom Argan Hand & Body Lotion - 37 mL
Combining science and nature, Toronto based Leaves of Trees Argan lotions keep things super-simple yet highly effective with only a few ingredients.
Each of their deep-penetrating but light-feeling lotions starts with 100% pure, cold-pressed by hand, certified organic, and ethically-sourced Argan Oil. All Leaves of Trees argan oil is sourced from a women's cooperative in Morocco, providing sustaining employment for the women and amazing skin-boosting benefits for everyone.
Made for hands and body, but may also be used on the face.
Let the blend of sensual, floral rose and warm, spicy cardamom wrap you up in good vibes with a subtle hint of sexy. This lotion is hydrating for the skin but also doubles as a lovely personal fragrance.