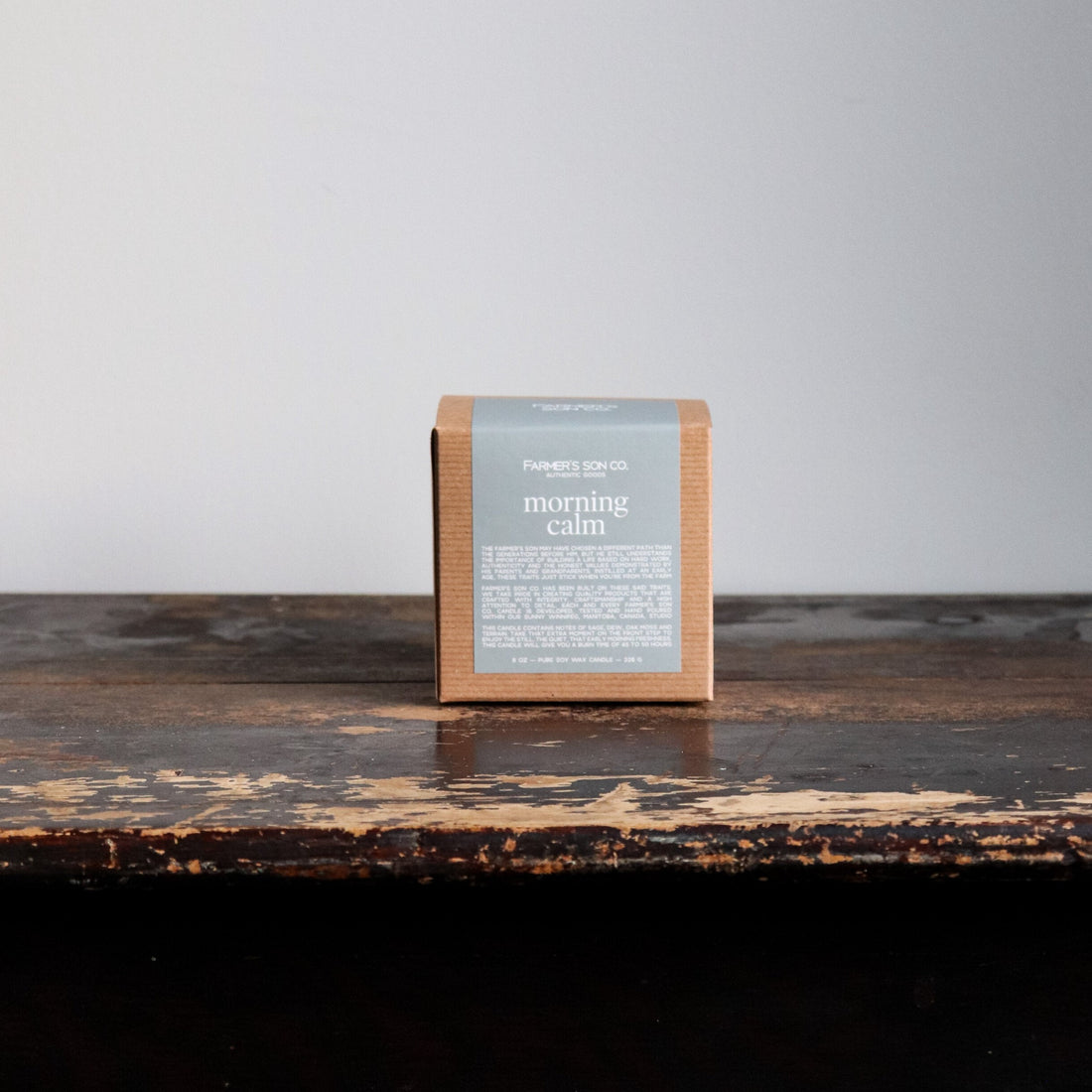 Morning Calm (FINAL SEASON)
TOP NOTE: Ozone
MIDDLE NOTES: White Sage, Garden Sage, Moss
BASE NOTES: Cedar, Moss, Earth, Dirt
There's something to be said for those spring mornings where it's warm enough that you head out of the farmhouse to sit on the back steps for a few moments to put on your work boots and enjoy those last few sips of coffee before heading out on the days' journey.
There's often a moment of pause and reflection after you've laced up the boots – you stop to think about what you want to strike off the daily to-do list and think about what you should get started on first. It's also during this moment of reflection that you notice how calm and quiet everything is – last night's dew still evident  - a freshness in the air, and with that a sense of optimism about the day ahead.
Morning Calm combines fresh morning dew, garden sage, moss and the scent of fresh earth – giving you that extra boost of freshness and optimism as you prepare for the day ahead.
WHILE SUPPLIES LAST!
Crafted with 100% soy wax, fine perfume fragrance and cotton core wicks. Poured in our 8oz lowball tumbers with minimalist label. Your candle has been wrapped in recyclable tissue paper and housed in a 100% recycled kraft cardboard box featuring an art paper Farmer's Son Co. label.

This candle will give you 50 hours of burn-time enjoyment with proper care.
Always trim wicks to 1/4 inch before lighting (we suggest using a Farmer's Son Co. wick trimmer). The first time you light your candle, let it burn for 3-4 hours to allow the melted wax to reach the edge of the container to prevent your candle from tunneling.
Follow the two foot rule - don't place your burning candle near clothing, books, curtains or anything flammable. Place candle holders on a stable, heat-resistant surface that is sturdy and large enough to catch any melted wax. Keep lit candles away from drafts, ceiling fans and any air currents. Never leave a burning a candle unattended. Extinguish all candles when you leave a room or before going to sleep or if the flame gets too close to the candle holder or container. A candle should not be burned for more than four hours at a time. For a margin of safety, discontinue burning a candle when 1/4 inch of wax remains in the container.
Small batch crafted by hand in our Winnipeg lab & creative space.