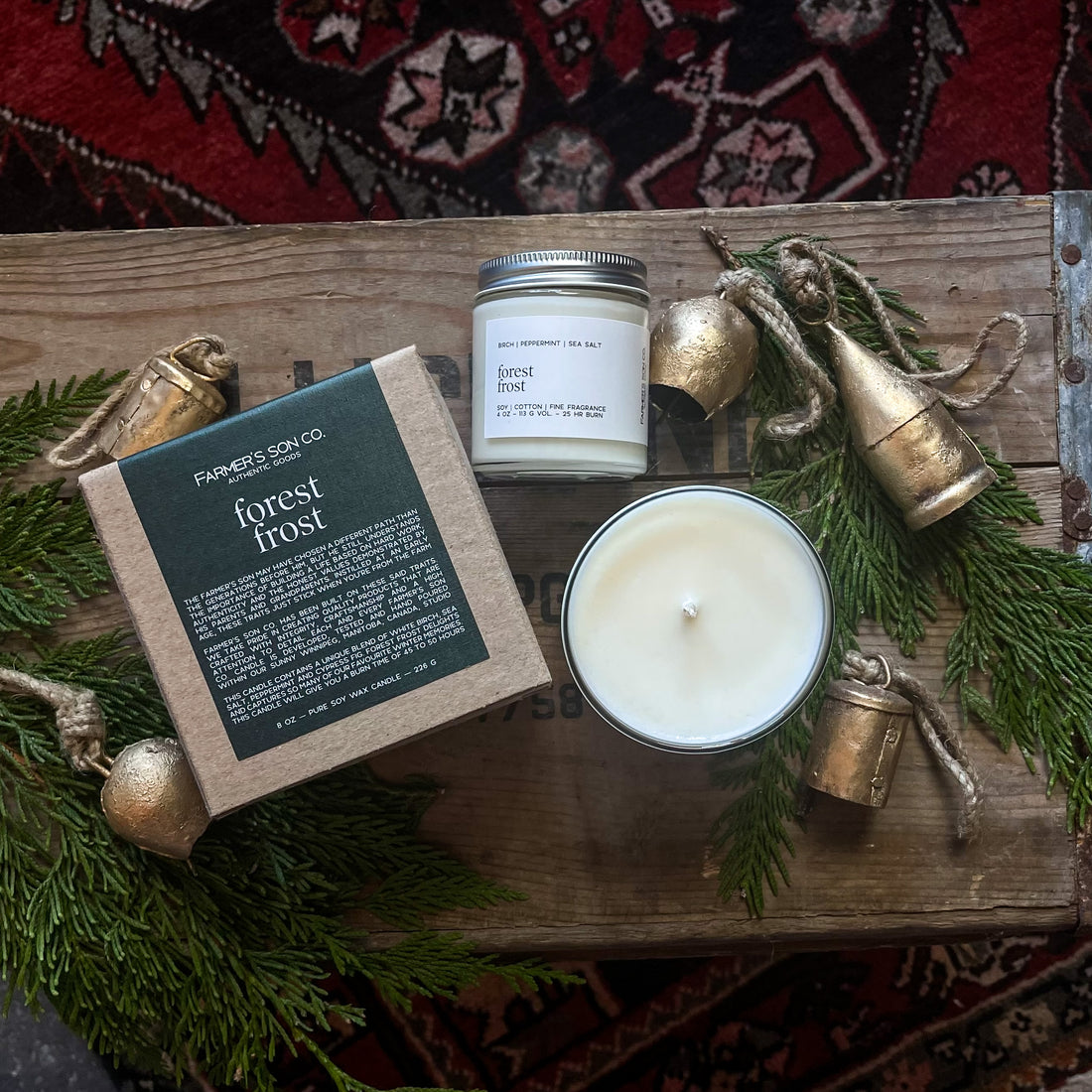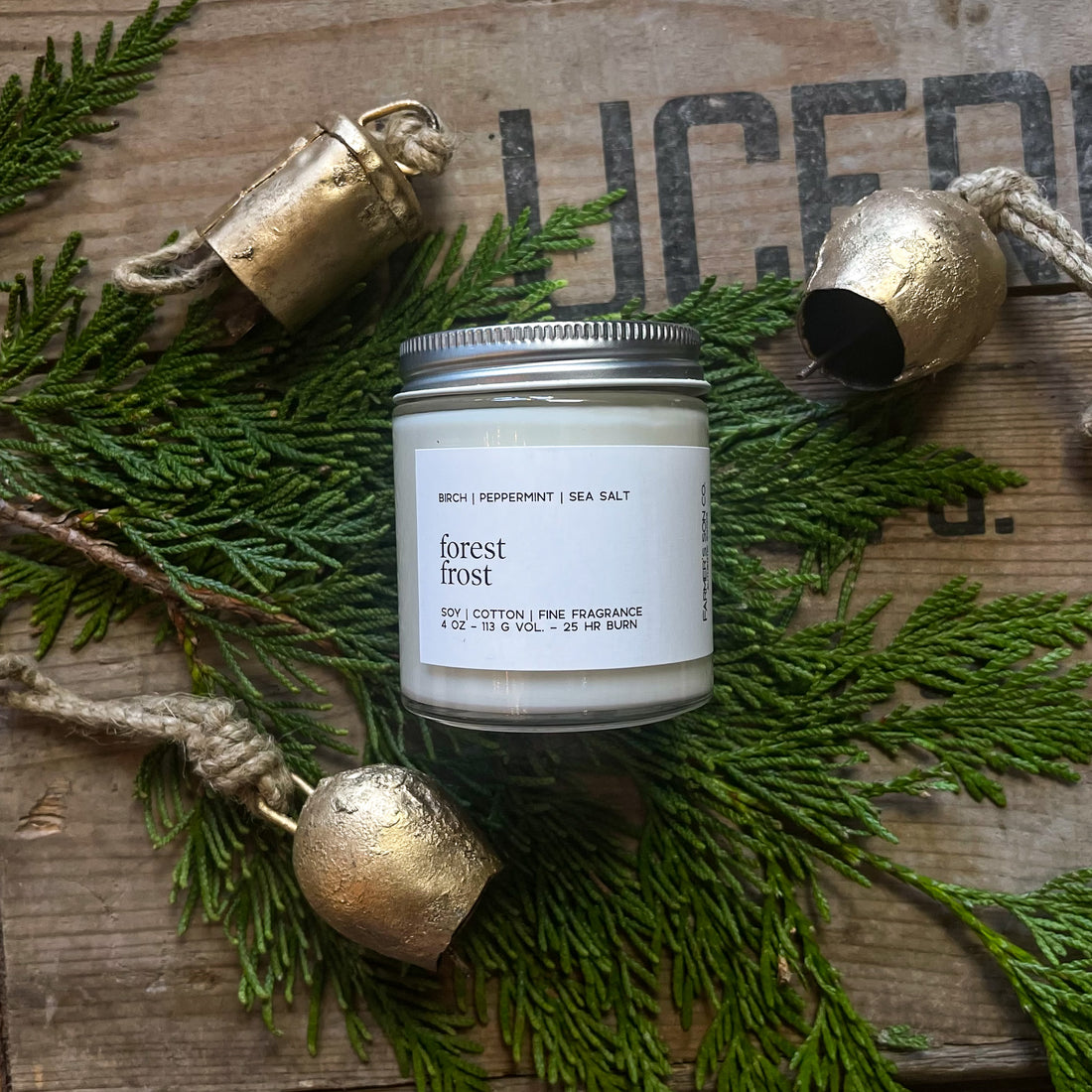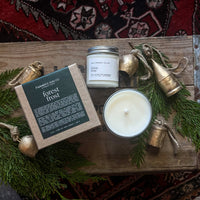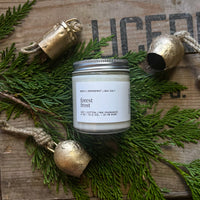 TOP NOTES: Eucalyptus, Peppermint. Aquatic
MIDDLE NOTES: Cypress Fig, Pine, Wood
BASE NOTES: Smoke, Tonka, Sea Salt
For good reason, Forest Frost is a favourite around these parts.
As I create fragrance I like to layer different elements of my story - be it a particular place or memory. Those moments that catch my eye as I take it all in. Trying to encapsulate everything that will lock that memory in place.
As I designed Forest Frost I thought of the big lake that's in the hills north of my family's farm. Surrounded by dense trees on three sides, with a pasture to the north it's a favourite spot.
Growing up, we used to winter our cows nearby and would have to get off the tractor and follow the cow paths through the bush down to the frozen lake. Here you'd use an old axe that lived on the tractor to open a watering hole for the cows to drink from.
There was just something magical about following those cow paths through the woods down to the lake. Especially on a morning after a fresh snow. The way the sun would glisten on the hoar frost covered trees. That crunching of the new snow underfoot. Seeing your breath and feeling that crispness in the air.
There's magic in this fragrance and I'm excited to find out which winter memories you uncover upon lighting it.
Crafted with 100% soy wax, fine perfume fragrance and cotton core wicks. Poured in our 4oz straight side jars with silver lids or our 8oz lowball tumblers with minimalist label.

Your 8oz candle has been wrapped in recyclable tissue paper and housed in a 100% recycled kraft cardboard box featuring an art paper Farmer's Son Co. label.

Our 4oz candle will give you 25 hours of burn-time enjoyment with proper care and our 8oz candle will give you 50 hours of burn-time enjoyment with proper care.
Always trim wicks to 1/4 inch before lighting (we suggest using a Farmer's Son Co. wick trimmer). The first time you light your candle, let it burn for 3-4 hours to allow the melted wax to reach the edge of the container to prevent your candle from tunneling.
Follow the two foot rule - don't place your burning candle near clothing, books, curtains or anything flammable. Place candle holders on a stable, heat-resistant surface that is sturdy and large enough to catch any melted wax. Keep lit candles away from drafts, ceiling fans and any air currents. Never leave a burning a candle unattended. Extinguish all candles when you leave a room or before going to sleep or if the flame gets too close to the candle holder or container. A candle should not be burned for more than four hours at a time. For a margin of safety, discontinue burning a candle when 1/4 inch of wax remains in the container.
Small batch crafted by hand in our Winnipeg lab & creative space.