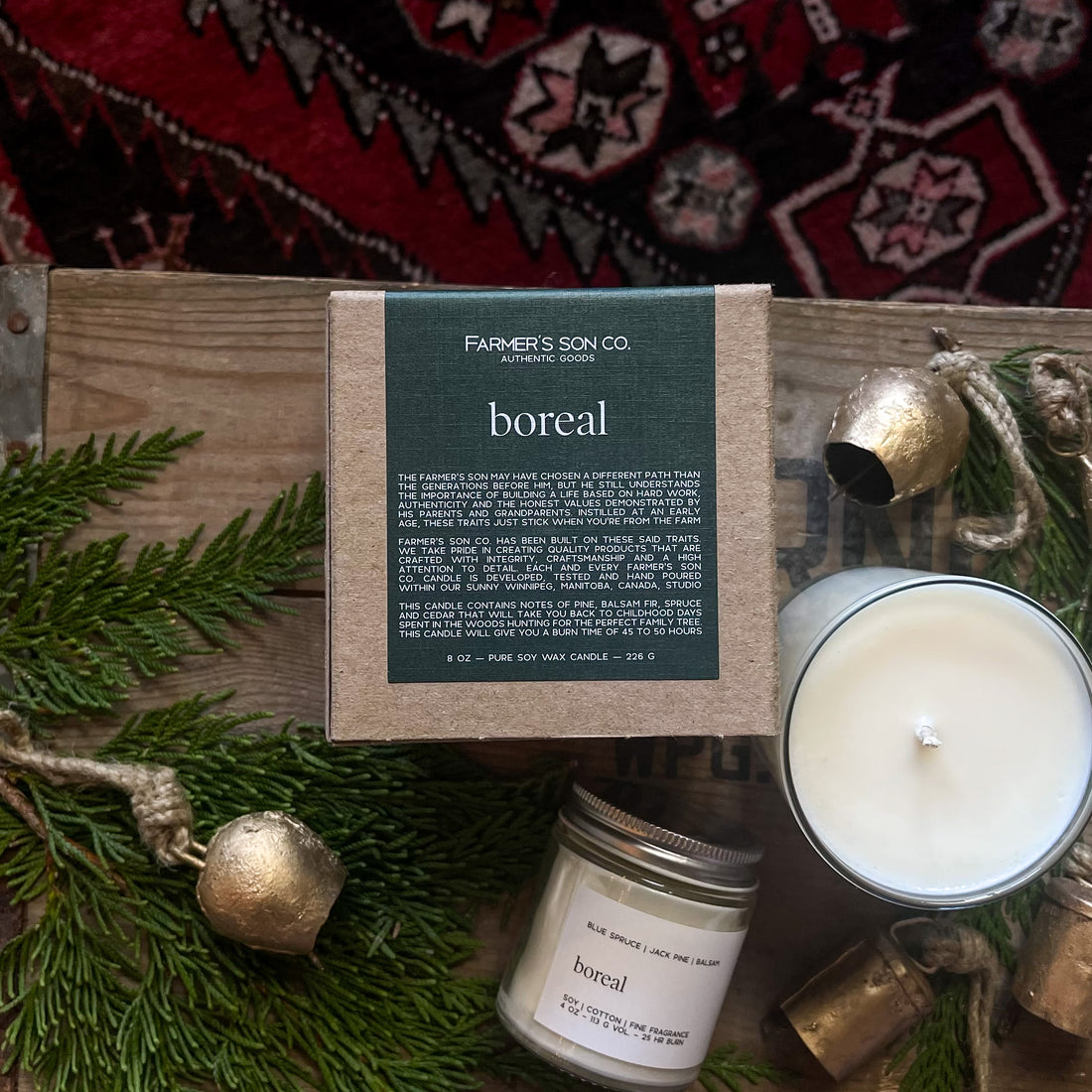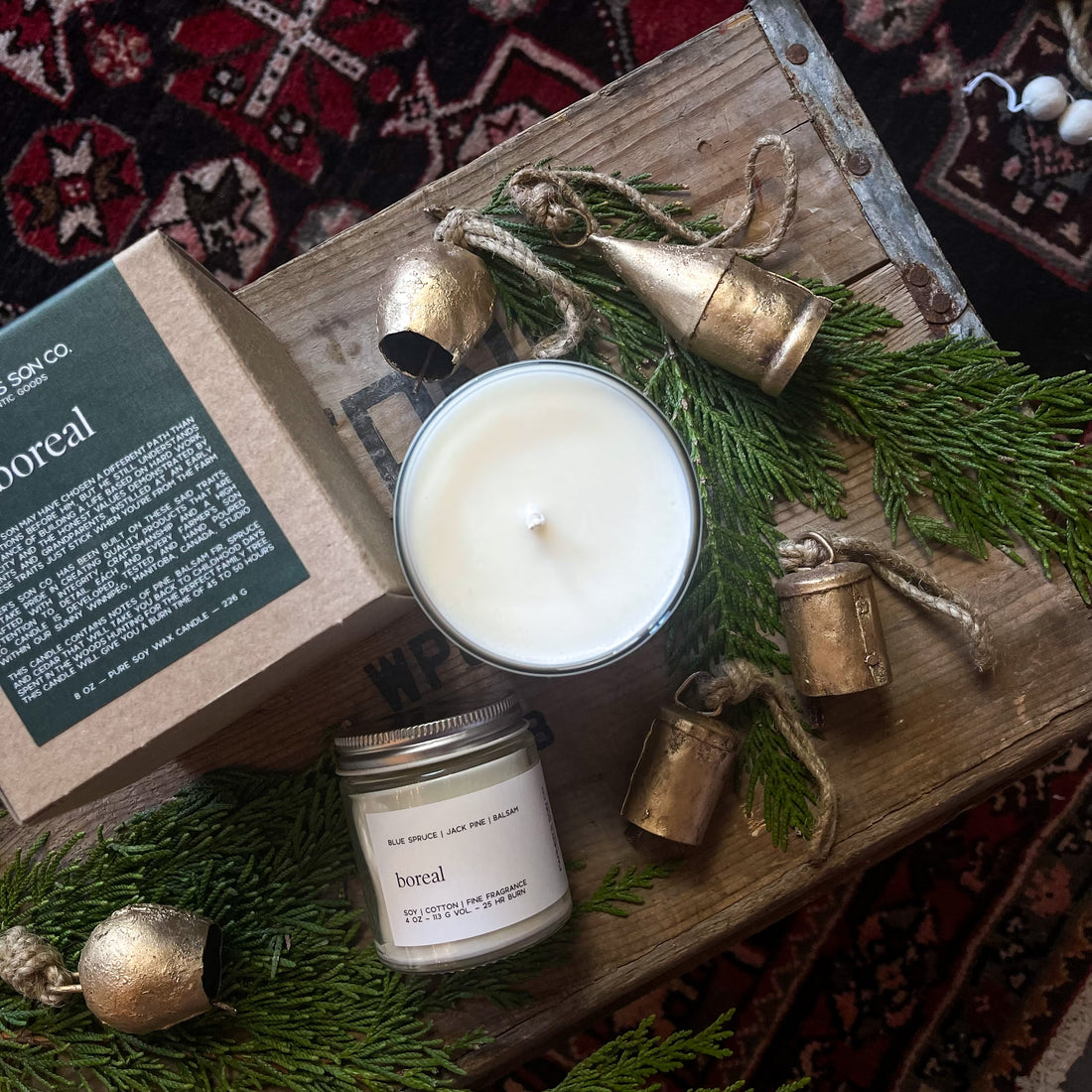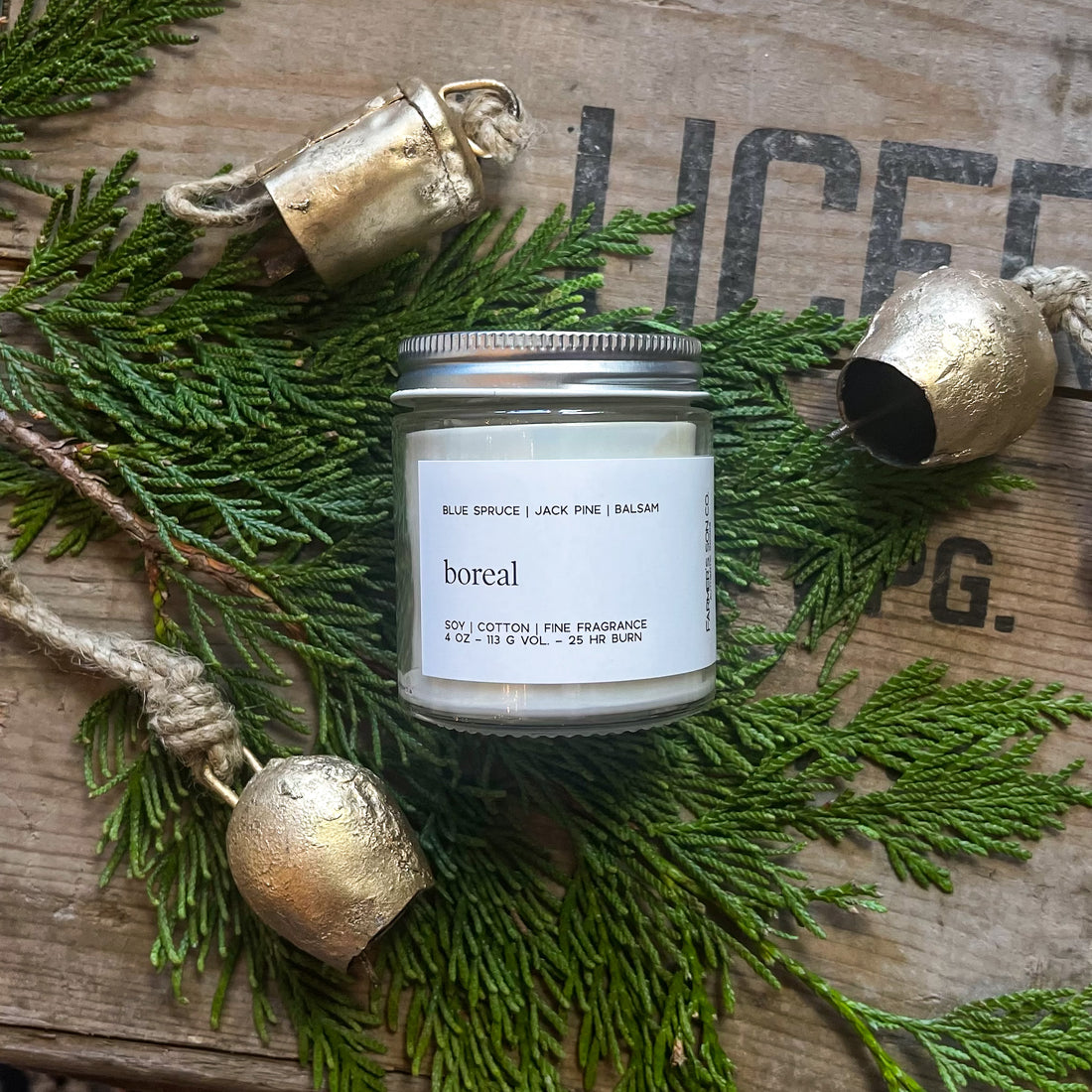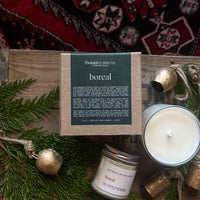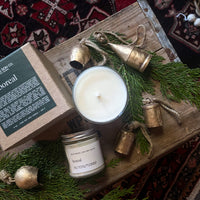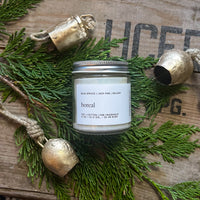 TOP NOTES: Citrus, Green
MIDDLE NOTES: Camphor, Jack Pine, Fir, Balsam, Cedarwood, White Spruce
BASE NOTES: Cedar Leaf, Woody Accord
When designing Boreal, I was initially inspired by Canadian boreal region which includes woodlands, deep forests, tundra, lakes and rivers. This unique fragrance captures the essence of the north perfectly.

This perfect blend of jack pine, balsam, white spruce and eastern white cedar now takes me back to being a kid and those memories of hopping in the old farm truck (that ol' F250 long box diesel that'd fishtail around without any weight in the box) and heading down out on the hunt for the perfect Christmas tree. 
It was always a family adventure. My Mom bundling us up in our heaviest winter gear, a thermos of hot chocolate, an axe and the chainsaw in the box of the truck. We'd head up north into the woods, looking out as we drove along to find the perfect tree. 
My Mom would always be the one to spot THE tree. "That's it. No, not that one, that one over there - the one up high with no boughs for the first seven feet, but the nice top." Into the snow we'd go, excited to give whatever we'd found - be it something big and grand, lush and full or a little misshapen, but full and character, still deserving of attention and love.
Green and full of life, let this fragrance help bring up memories of favourite trees past.
Crafted with 100% soy wax, fine perfume fragrance and cotton core wicks. Poured in our 4oz straight side jars with silver lids or our 8oz lowball tumblers with minimalist label.

Your 8oz candle has been wrapped in recyclable tissue paper and housed in a 100% recycled kraft cardboard box featuring an art paper Farmer's Son Co. label.

Our 4oz candle will give you 25 hours of burn-time enjoyment with proper care and our 8oz candle will give you 50 hours of burn-time enjoyment with proper care.
Always trim wicks to 1/4 inch before lighting (we suggest using a Farmer's Son Co. wick trimmer). The first time you light your candle, let it burn for 3-4 hours to allow the melted wax to reach the edge of the container to prevent your candle from tunneling.
Follow the two foot rule - don't place your burning candle near clothing, books, curtains or anything flammable. Place candle holders on a stable, heat-resistant surface that is sturdy and large enough to catch any melted wax. Keep lit candles away from drafts, ceiling fans and any air currents. Never leave a burning a candle unattended. Extinguish all candles when you leave a room or before going to sleep or if the flame gets too close to the candle holder or container. A candle should not be burned for more than four hours at a time. For a margin of safety, discontinue burning a candle when 1/4 inch of wax remains in the container.
Small batch crafted by hand in our Winnipeg lab & creative space.