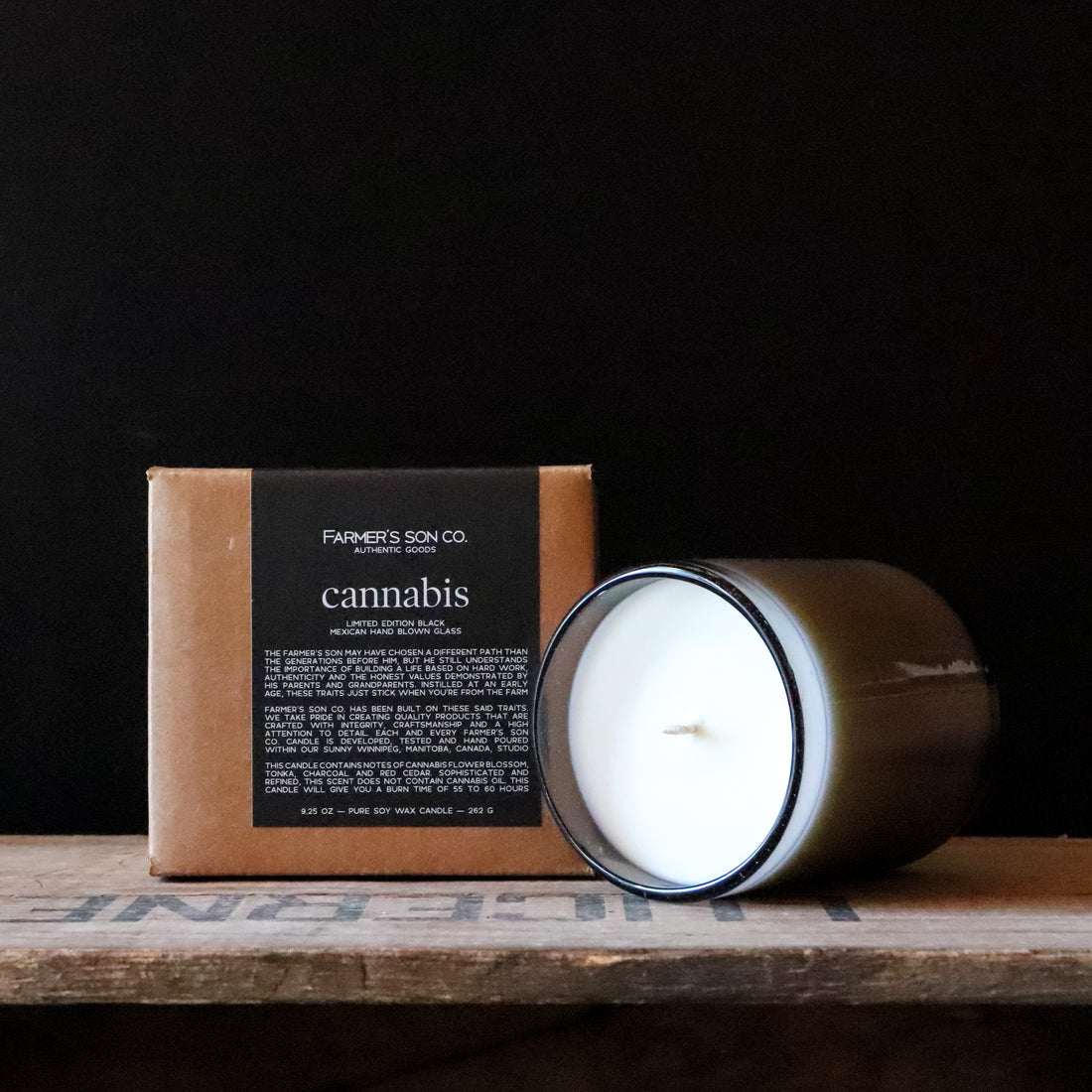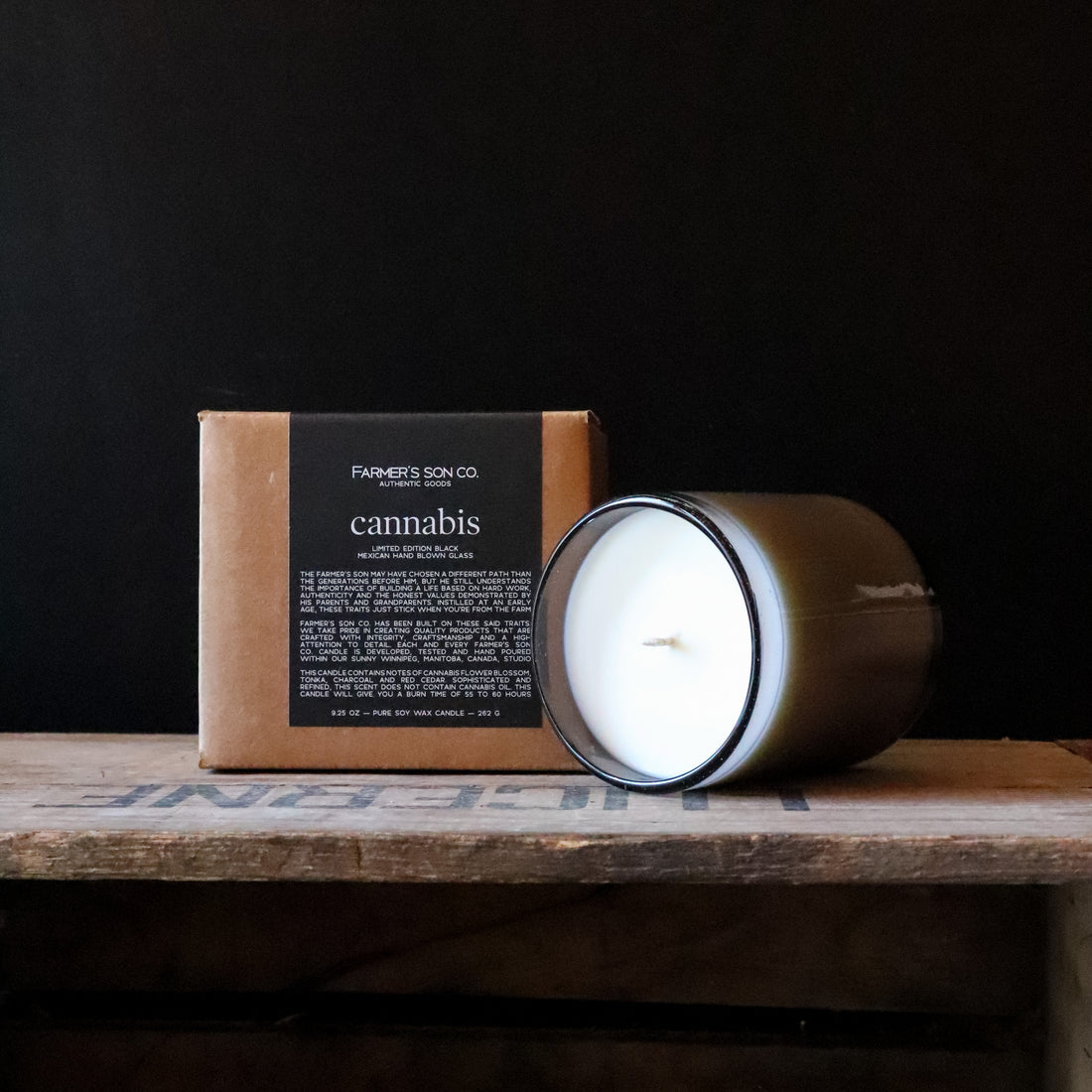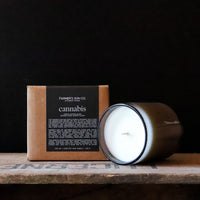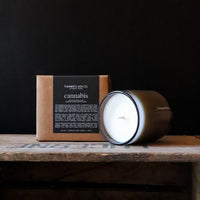 Cannabis (FINAL BATCH OF MEXICAN GLASS)
TOP NOTES: Cannabis Flower, Black Currant, Greens, Bergamot
MIDDLE NOTES: Cedar, Fir, Pine, Spice, Tobacco Leaf, Thyme, Cade
BASE NOTES: Musk, Cedar, Patchouli, Woody Accord, Leather, Tonka
It was in Mexico a few years back that we stumbled across a small workshop, crafting beautiful artisan glass utilizing recycled glass. What was supposed to be a relaxing getaway turned into a buying trip & the beginning of a special partnership that continues to this day.
Each of our limited edition amber & black tumblers have been handblown exclusively for Farmer's Son Co. in Tonola, Mexico. Adding to this, workers within the glassware facility are paid a fair wage, taught the art of glassblowing, which in turn helps to grow the local economy of the region and increase sustainability of existing resources.
Cannabis is an unexpected addition to our range. Giving it our own Farmer's Son Co. twist, think of this scent as warm and inviting, dare we even say very grownup vs. the idea and novelty of a fragrance that smells like bong smoke.
A sophisticated blend of cannabis flower blossom, tonka, charcoal and red cedar come together to create a scent that's truly special. This is perfect ambiance for late nights at the cabin, candlelit nights filled with good vinyl and quiet conversation or those Tuesday evenings when you need to chill after spending the day with that co-worker who gets under your skin. If anyone asks, it's called self-care.
Please note that this candle does not contain cannabis oil.
Crafted with 100% soy wax, fine perfume fragrance and cotton core wicks. Poured in our 9.25oz handblown recycled Mexican glass vessel. Your candle has been wrapped in recyclable tissue paper and housed in a 100% recycled kraft cardboard box featuring an art paper Farmer's Son Co. label.

This candle will give you 55 hours of burn-time enjoyment with proper care.
Always trim wicks to 1/4 inch before lighting (we suggest using a Farmer's Son Co. wick trimmer). The first time you light your candle, let it burn for 3-4 hours to allow the melted wax to reach the edge of the container to prevent your candle from tunneling.
Follow the two foot rule - don't place your burning candle near clothing, books, curtains or anything flammable. Place candle holders on a stable, heat-resistant surface that is sturdy and large enough to catch any melted wax. Keep lit candles away from drafts, ceiling fans and any air currents. Never leave a burning a candle unattended. Extinguish all candles when you leave a room or before going to sleep or if the flame gets too close to the candle holder or container. A candle should not be burned for more than four hours at a time. For a margin of safety, discontinue burning a candle when 1/4 inch of wax remains in the container.
Glass handblown in Mexico utilizing recycled glass. Candle small batch crafted by hand in our Winnipeg lab & creative space.