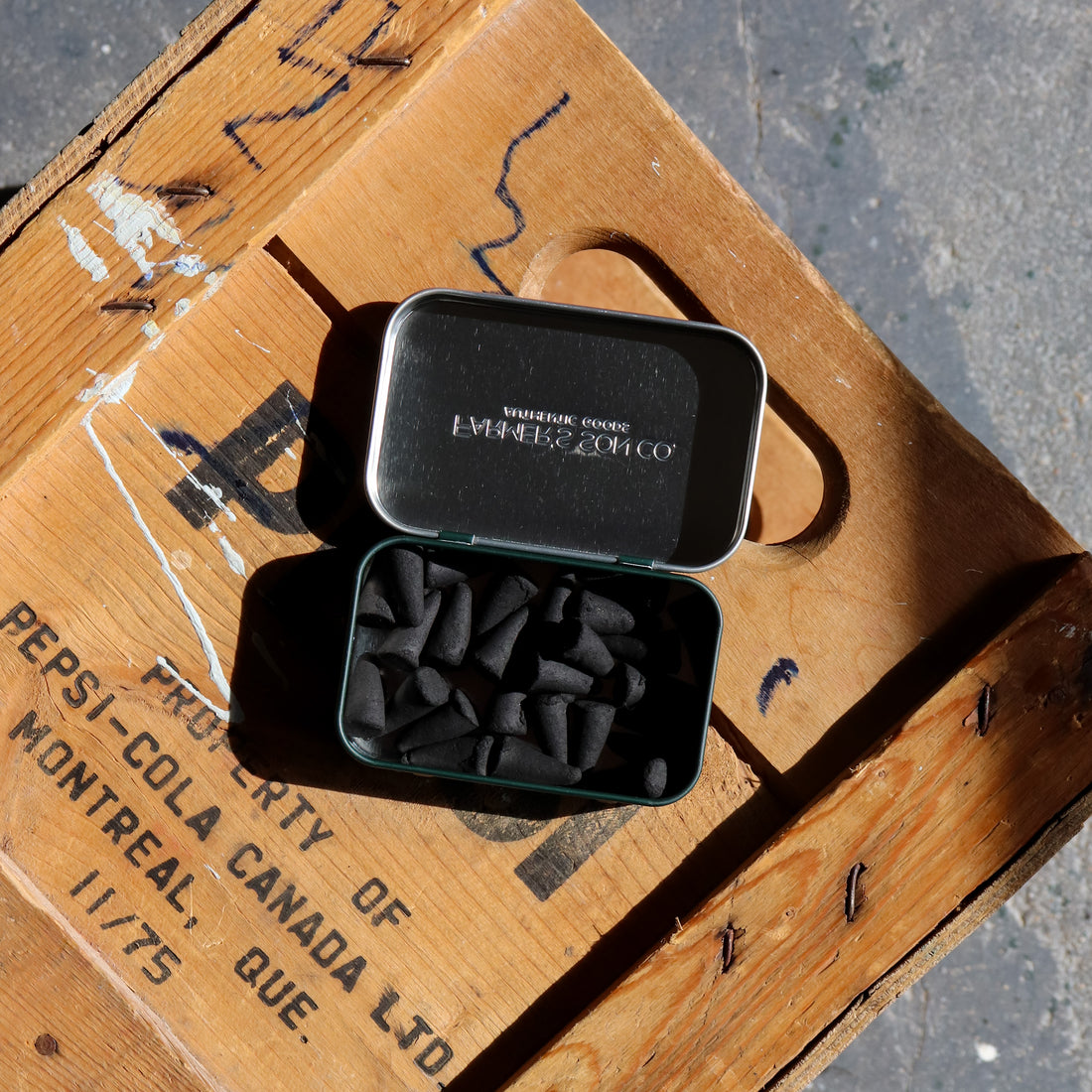 TOP NOTES: Citrus, Wild Fern Accord, Grass, Green Leaf
MIDDLE NOTES: Redwood, Cedar
BASE NOTES: Wet Earth, Woody Notes, Oak Moss
A Farmer's Son Co. exclusive, Wild Fern brings to mind the nuances of delicately unfurled fern fronds, coupled with notes that lend themselves to the cool, damp and sweet feel of the forest.
Exclusive to our incense range and like walking into the embrace of a shady spot in the woods, Wild Fern will wrap your space in its unique glow. 
A woodsy and inviting scent that will evoke memories of long weekend hikes through the forest, your favourite pooch by your side. It brings to mind the scent of dew damp cedar needles, a fine mist of rain coming down and the earthy, herbaceous scent of prairie sage.
Let the transformative smoke created by our incense cones uplifts your space while our exclusive scents linger for hours even after extinguishing.
Each of our charcoal cones burns for approximately 25 minutes, elevating a space with scent in under an hour. Depending on the size of your room, the fragrance will last for two to three hours.
Crafted by hand in Winnipeg, our incense is housed in our understated Farmer's Son Co. branded tins. Each tin includes 25 charcoal incense tins.
WHILE SUPPLIES LAST.
Our charcoal incense cones are crafted in our Winnipeg studio using fine fragrance oils and dipropylene glycol (DPG), a synthetic base that's commonly found in body care and home fragrance products.
Light the end of the incense cone at a slight angle with a lighter or match, allowing the flame to burn for approximately 10-15 seconds, enough to create a small flame. If the flame isn't allowed to burn long enough, it may extinguish before burning all the way through (about 25 mins).

Blow on the flame to extinguish. The incense cone should produce a glowing red ember and a tendril of smoke, and will continue to burn on its own. Be sure to burn incense on a heatproof, non-flammable holder only. Please note that the bottom of the incense cone may leave a residual stain on ceramic holders while burning.

Burn your Farmer's Son Co. incense in a well-ventilated room, away from flammable materials, and never leave incense burning unattended or in near children, pets, or a draft. We recommend burning our Incense Cones directly on the tin of your Incense Cones container; the lid works as a great heat safe burner, however it prevents your Incense Cone from burning all the way through as a precautionary measure by limiting the amount of oxygen.
Wipe the inside of the tin lid with a damp microfibre cloth as needed. If burning your incense cone in a bowl or on a plate, wipe the surface after burning. Salt and sand make great bases for your burner.
3inch x 2.4 inch x 1inch (1.2cm x 6.1cm x 2.5cm)
Tin crafted in China exclusively for Farmer's Son Co., incense crafted in Canada