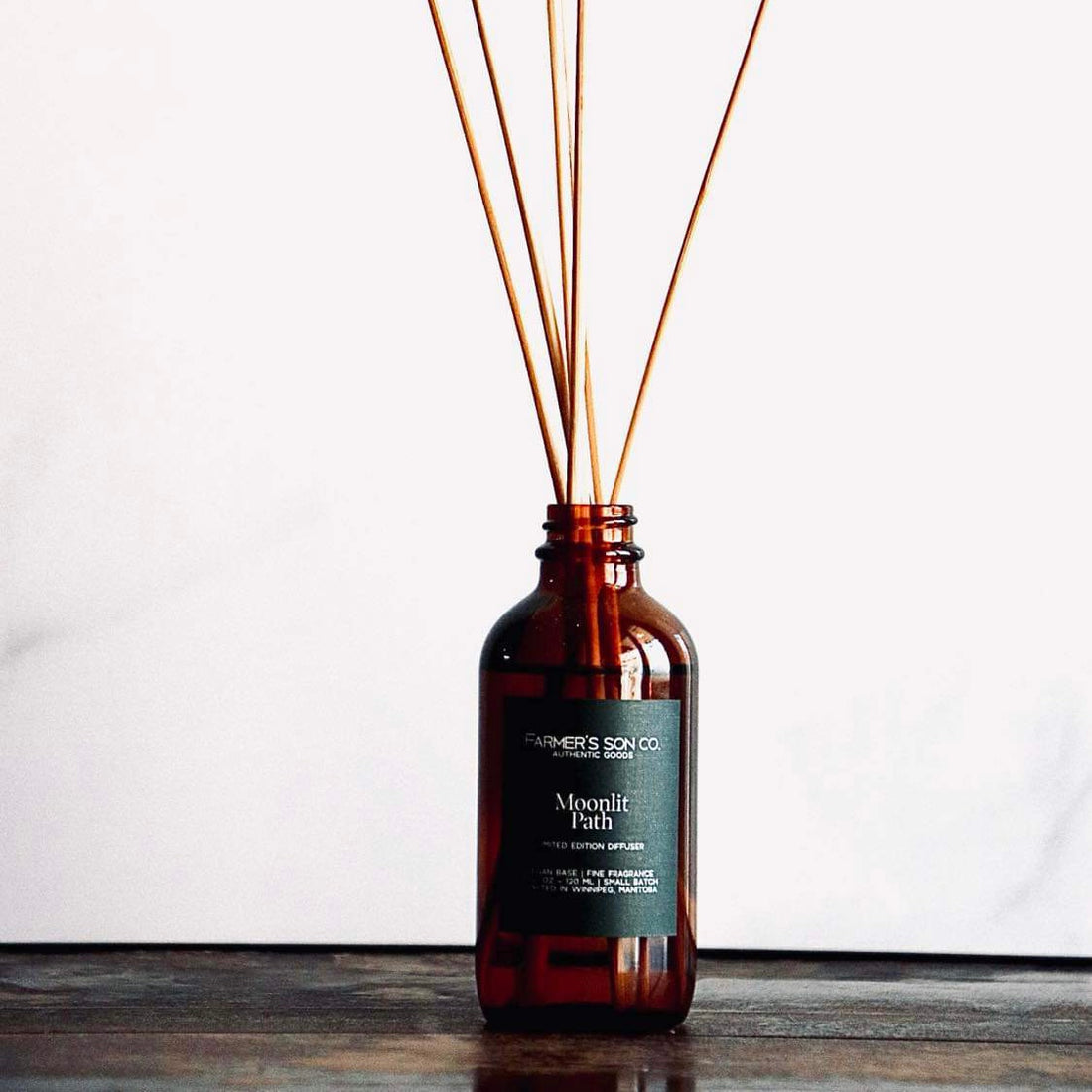 TOP NOTES: Cinnamon, Clove, Citrus Accord, Orange Peel

MIDDLE NOTES: Floral Accord, Fir Needles, Jack Pine, Evergreen
BASE NOTES: Moss, Sandalwood, Vanilla, Woody Accord, Musk
It's a crisp winter night as I find myself wandering down the moonlit path me towards our family farm. The snow is sparkling in the moonlight. I look around, taking in the beautiful stillness of the night. It's so peaceful and tranquil out here.
I take a step and hear the snow crunch beneath my feet. I pause to take in the sound, the beautiful soundtrack of the night. The distant howl of coyotes in the woods, my dog at my side, stick in mouth. I carry on, my feet crunching and my breath fogging up in the air around me.
The cold air wraps around me like a comforting blanket and I look up at the clear night sky, sparkling with stars. I take a moment to pick out my favourite constellations - just like I'd done as a boy. The beauty of this moment takes my breath away.
I know this winter path will always remain in my memory, and when I need to take some time away from the world I can come back here and remember the beauty of the night and the crisp feeling of that crunching snow beneath my feet.
Insert the rattan reeds directly into the bottle, flipping them weekly or as needed to refresh the scent. To create a lighter, more subtle scent throw, insert just a few reeds or remove as needed.
Please keep your reed diffuser away from direct sunlight or other heat sources to avoid drying out the reeds. Farmer's Son Co. fragrance oils are not developed for aromatherapy diffusers or humidifiers. Do not consume and keep away from children or pets. If the oil spills, clean up immediately, as the oils and resins can cause damage to some finishes.

Do not place the bottle on any surface that may be damaged by perfume oils. Neither Farmer's Son Co. nor our stockist partners are responsible for the misuse of your diffuser.
Small batch crafted by hand in our Winnipeg lab & creative space.