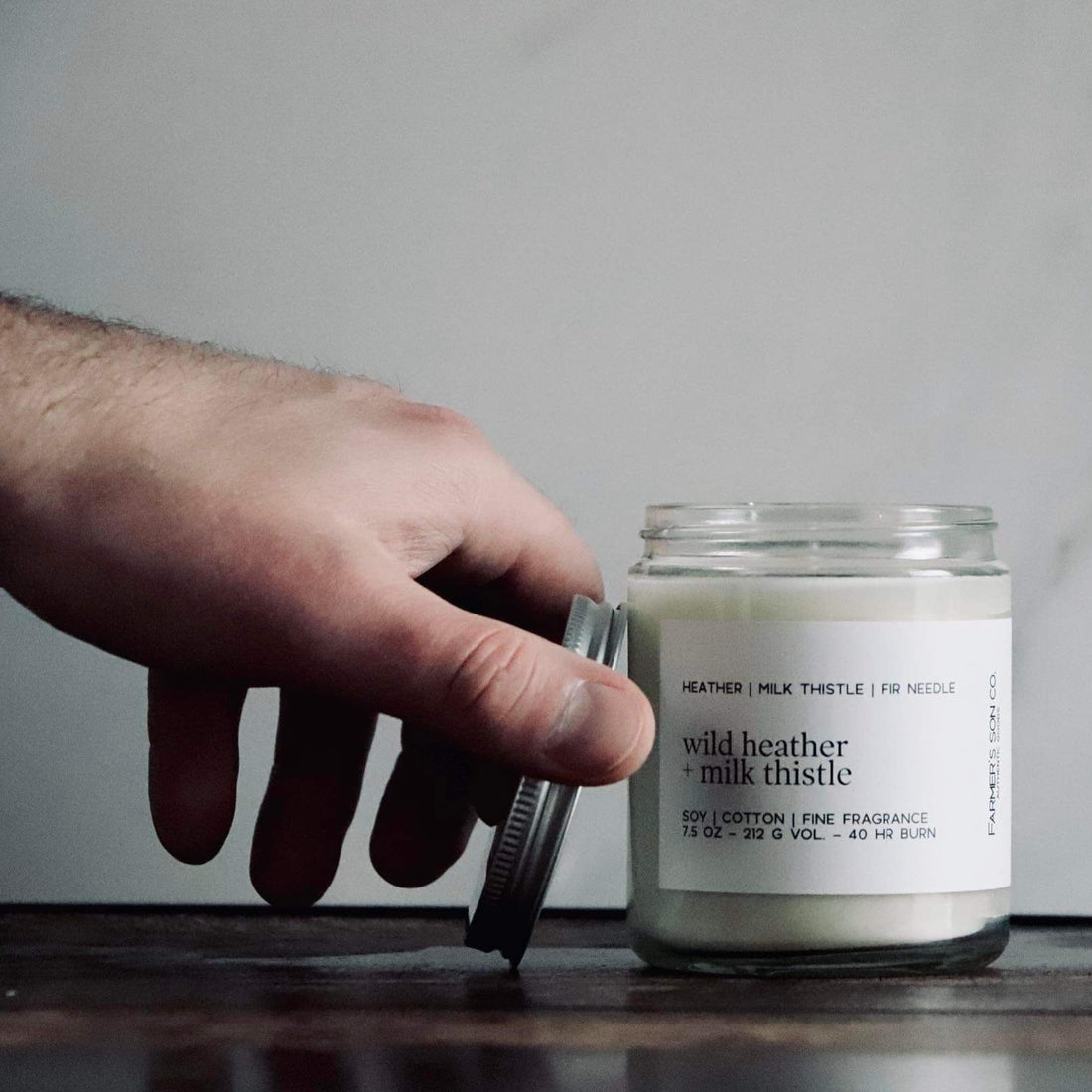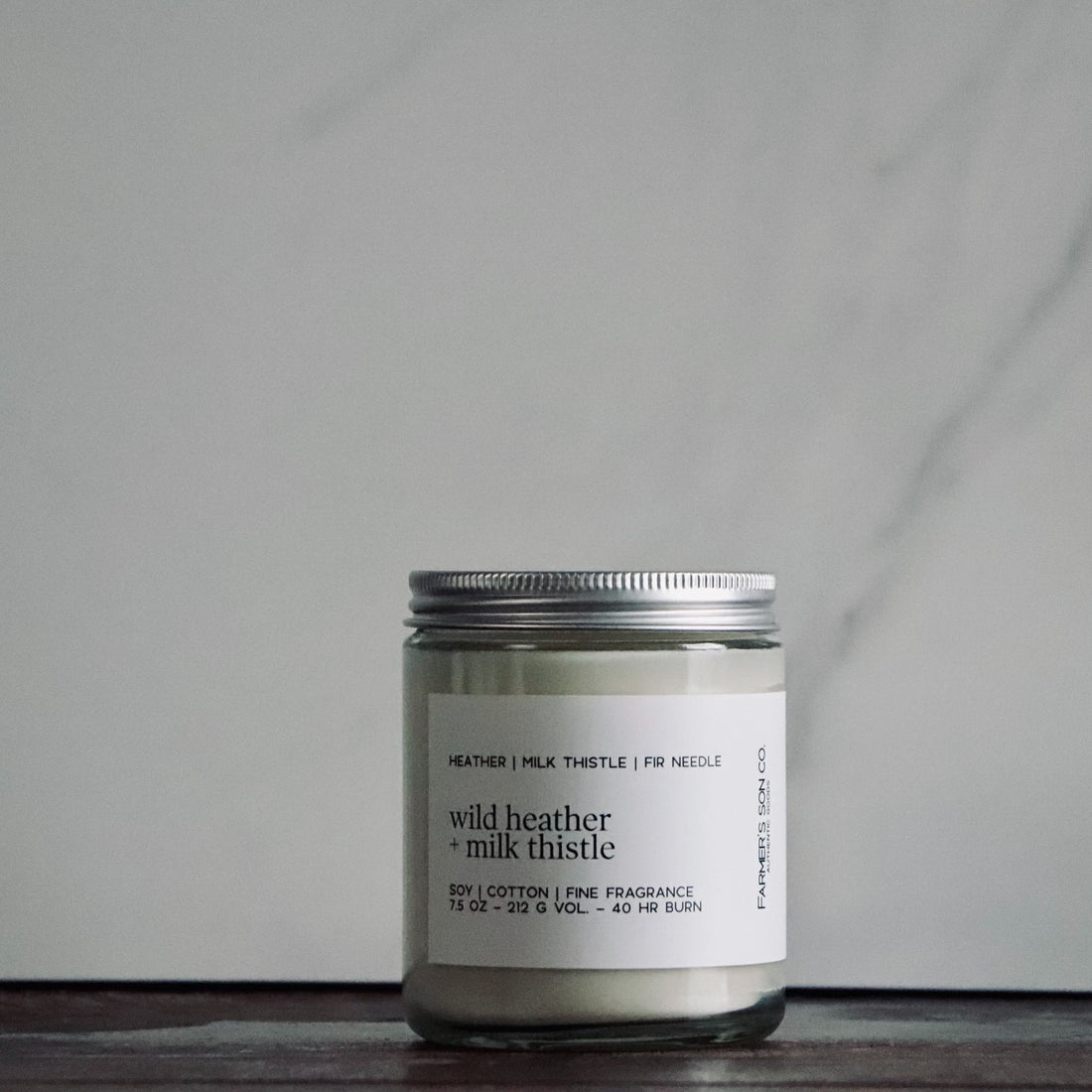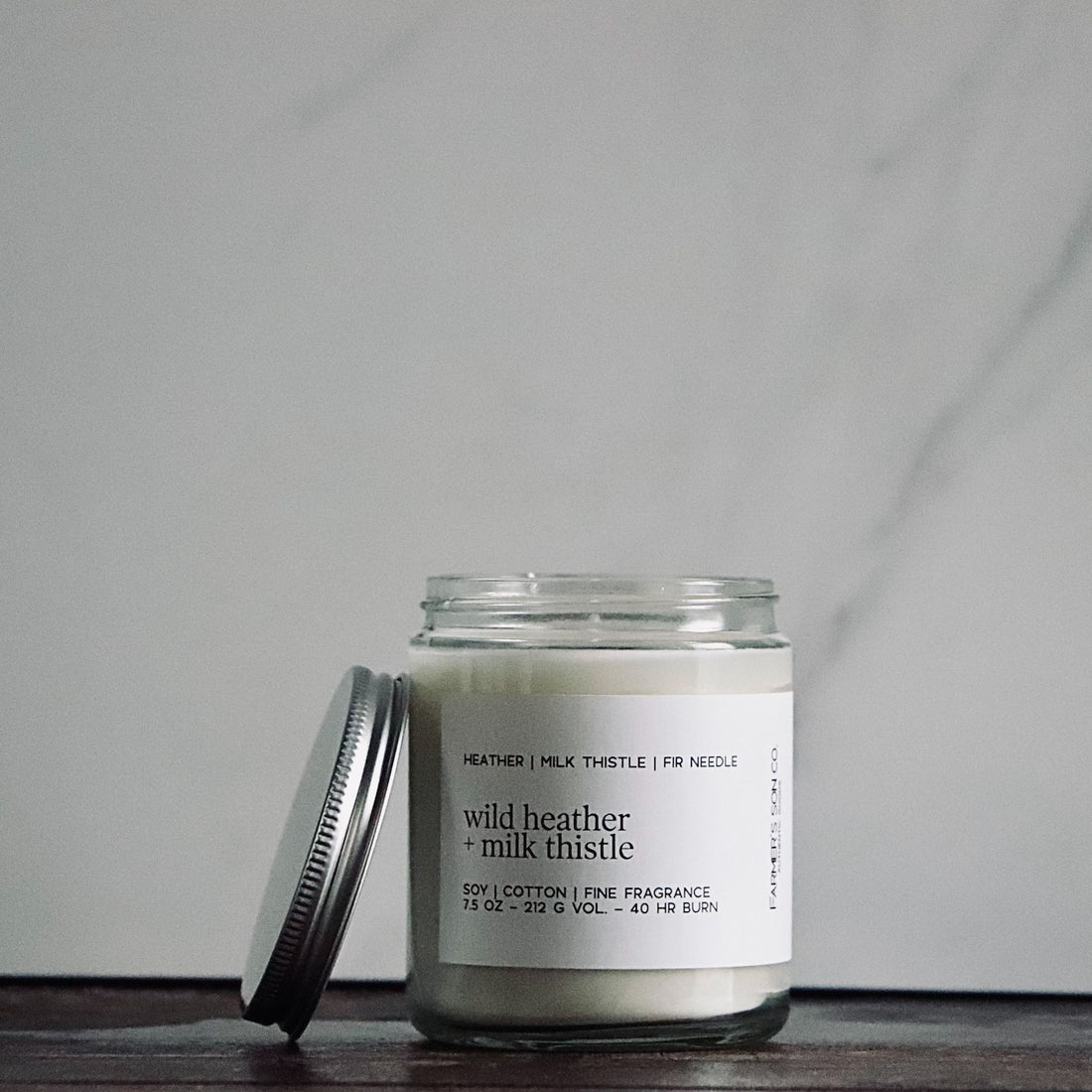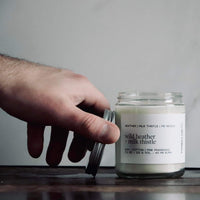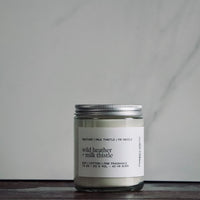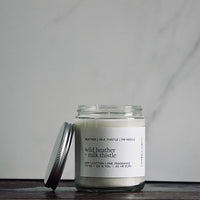 Wild Heather + Milk Thistle
TOP NOTES: Green Apple, Geranium, Clove
MIDDLE NOTES: Lavender, Spruce, White Pine, Rose, Heather
BASE NOTES: Siberian Fir Needle, Cedarwood
I don't know about you, but sometimes when a day isn't going exactly as planned I'll take a few moments to close my eyes and just think about one of my favourite spots. It's one of those things I've been doing since I was a kid. A way to escape, a way to destress, to ground myself.
I've got a lot of favourite spots, but more often than not I usually find myself coming back to a pasture just north of my family's farm.
I'll think of the small lake along the edge of the pasture. I'll let my mind wander to how many times I climbed those hills as a kid. I'll think of the wild grasses swaying in the wind, of the two lonely old spruce trees found along the shoreline on the opposite side of the lake. My mind will wander to how blue the sky felt, how green and fresh everything felt and smelt after a summer rain. There's just something about that particular spot that makes me smile and reminds me that everything will work out as intended.
Designed by resident fragrance designer & chandler Christopher Oates, Wild Heather + Milk Thistle takes be right back to that pasture. With it's mossy and woody notes of wild heather, paired with the earthy, herbaceous and green notes found in milk thistle I find myself smiling and thinking of that favourite spot.
Fragrance designed and poured by hand in Winnipeg, Manitoba with 100% soy wax for an eco-friendly clean burn. We use cotton wicks and premium fragrance oils. Like all Farmer's Son Co. candles, this one is vegan, cruelty-free, phthalate-free, and petroleum-free.
Crafted with 100% soy wax, fine perfume fragrance and cotton core wicks. Poured in our 7.5oz straight side jars with minimalist label. The brushed silver lid instantly makes your candle travel-friendly.

This candle will give you 40 to 45 hours of burn-time enjoyment.
Always trim wicks to 1/4 inch before lighting (we suggest using a Farmer's Son Co. wick trimmer). The first time you light your candle, let it burn for 3-4 hours to allow the melted wax to reach the edge of the container to prevent your candle from tunneling.
Follow the two foot rule - don't place your burning candle near clothing, books, curtains or anything flammable. Place candle holders on a stable, heat-resistant surface that is sturdy and large enough to catch any melted wax. Keep lit candles away from drafts, ceiling fans and any air currents. Never leave a burning a candle unattended. Extinguish all candles when you leave a room or before going to sleep or if the flame gets too close to the candle holder or container. A candle should not be burned for more than four hours at a time. For a margin of safety, discontinue burning a candle when 1/4 inch of wax remains in the container.
Small batch crafted by hand in our Winnipeg lab & creative space.